March 4, 2022
Joint Venture AICHELIN KILNPARTNER
Roller hearth kilns for the heat treatment of the cathode (CAM) and anode active materials (AAM)
AICHELIN GesmbH Austria signs a joint venture with KILNPARTNER Mechanical Technology Ltd. China to meet growing demands from the downstream lithium-ion battery sector mainly in Europe and other rising market areas worldwide.
The European pioneer in furnace manufacturing, AICHELIN, will join forces with KILNPARTNER, whose experience in manufacturing kilns for the Lithium-ion battery and the ceramic industry will help provide premium equipment and auxiliaries for the heat treatment systems as well as the automated handling systems of active materials of batteries. The active materials of batteries are key materials for driving the desired properties of a Lithium-ion Battery. IMO Engineering Technology Co. will join the cooperation as a third partner.
The headquarters of the Joint Venture will be in Mödling, Austria. It aims to develop, manufacture, and deliver advanced and sustainable equipment for the lithium-ion battery industry. The Joint Venture will also provide after-sales services out of the Business Division AICHELIN Services Europe. In short AICHELIN und KILNPARTNER will collaborate on the shared goal of joining resources, know-how, and networks to deliver top quality technological solutions to customers in the battery market.
With its proprietary technology relating to battery powder kilns for active materials in Li-ion batteries, KILNPARTNER believes AICHELIN is a natural fit as a developmental partner. As one of the global manufacturing leaders of heat treatment systems, AICHELIN has ample experience in incorporating different technologies. The Austrian furnace manufacturer is among the major global leaders in manufacturing heat treatment equipment for all types of atmospheric processes with outstanding temperature uniformity.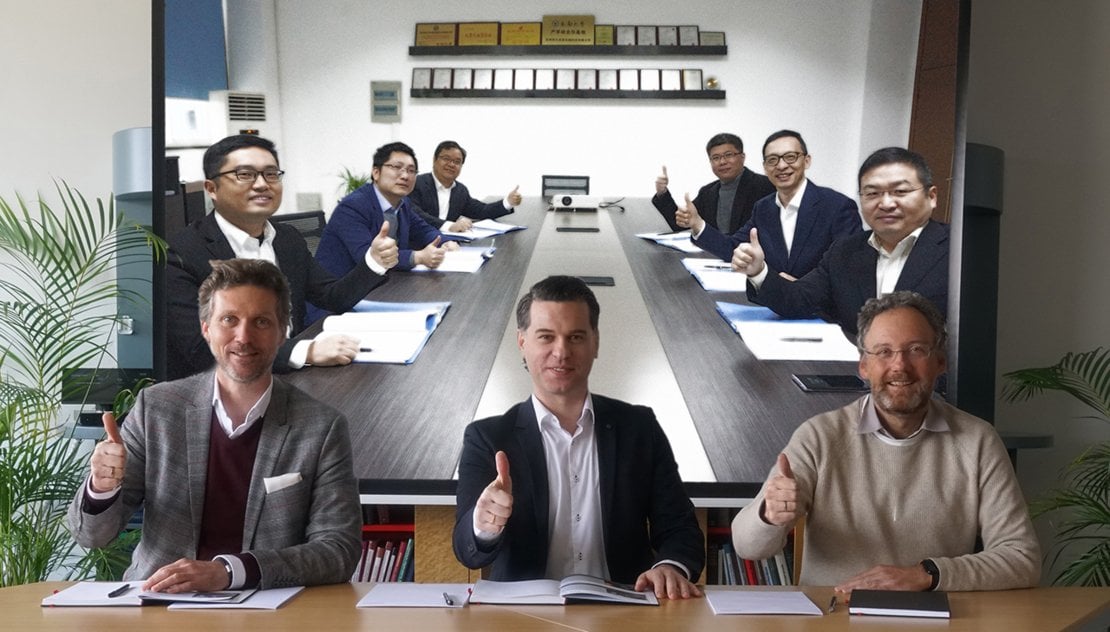 From left to right, top to bottom: Mr. Zhang Yuejin, Mr. Wang Xing, Mr. Huang Ligang (Kilnpartner Co-Founder and Management, Mr. Mu Xiao (Investor), Mr. Johnson Fan (CEO Kilnpartner), Mr. Xu Liujiang (IMO Team), Michael Reisner (CEO AICHELIN GesmbH), Tawk Jad (Managing Director AICHELIN KILNPARTNER GmbH), Thomas Dopler (CTO AICHELIN Holding)
It is so lucky we got to meet AICHELIN as they are such a famous enterprise that enjoys a high reputation in the world. We strongly believe that through our joint efforts and with complementing each other's strong points, AICHELIN-KILNPARTNER GmbH should contribute greatly, not only to the European market but to the global market as well,
said Johnson Fan, CEO KILNPARTNER Mechanical Technology Ltd.
We, at AICHELIN, are very much looking forward to our joint effort with KILNPARTNER to successfully enter the growing battery powder market in Europe with our new JV AICHELIN KILNPARTNER. It is very important to start together with KILNPARTNER – an experienced kiln manufacturer from China with lots of references - to professionally meet the upcoming demand, especially for the EV Market,
said Michael Reisner, CEO AICHELIN GesmbH Mödling.
We are pleased that we are able to start making the roller hearth kilns for European customers in the battery market, it's a big milestone for us. The professional knowledge of Kilnpartner around the calcination process of lithium-ion anode and cathode materials, will be combined with the experience of AICHELIN with atmosphere heat treatment equipment. This, I believe, will ensure that our customers are satisfied and benefit from our joint efforts,
said Xiao Mu, shareholder at JV AICHELIN KILNPARTNER and Managing Director at IMO Engineering Technology Co. Ltd. Hongkong.
AICHELIN and KILNPARTNER have a proven track record of developing reliable heat treatment systems and supplying the global market. I am confident that this partnership will offer numerous benefits and commercial viability to our European customers who are investing in new systems and thus require professional After-Sales Services
said Jad Tawk, Managing Director of JV AICHELIN KILNPARTNER.
CONTACT INFORMATION
AICHELIN KILN Systems
Fabriksgasse 3
AT - 2340 Mödling
Phone +43 2236 23646-349